Nursery
Welcome to Nursery!
Our Nursery at HGCP is a happy, safe and stimulating environment which caters for the youngest members of our school community. We work in partnership with our parents and carers to ensure that our children reach their full potential, learning through their play.
Members of staff within Nursery are:
Miss Griffin - Teacher
Mrs Marshall – Nursery Assistant
Mrs Peers – Nursery Assistant
Mrs Hamer – Nursery Assistant
The Early Years Foundation Stage (EYFS) curriculum is made up of 7 Areas of Learning. Each of these areas is important and inter-connected, centred around the individual interests and needs of each unique child.
The 7 Areas of Learning are:
Prime Areas
Personal, Social and Emotional Development
Physical Development
Communication and Language
Specific Areas
Literacy
Mathematics
Understanding the World
Expressive Arts and Design
We deliver the curriculum through planned, purposeful play that is based upon the interests and learning needs of the children. Nursery staff work closely with our Reception team so that there is continuity and smooth transition.
Activities
We provide a wide variety of activities to meet the needs of the children. These include:
Dough Disco

Digit Dance

Squiggle While You Wiggle

Phonics and Maths sessions

Art and Craft

Reading Area

Sand and Water play

Mark Making Area

Storytime

Outdoor play
Our Nursery Provision
We welcome our intake of children in September; depending on whether there are any places left, we can sometimes offer a January intake also. We accept children in the September after their 3rd birthday.
We provide 15 hours per week funded early years education for 3 and 4 year olds. This can be taken in one of 4 sessions:
Mornings – 9am-12pm, Monday to Friday
Afternoons – 12.15-3.15pm, Monday to Friday
OR
2 and a half days
EITHER Monday to Wednesday (M/T 9am-3pm, W 9am-12pm)
OR Wednesday to Friday (W 12.15-3.15pm, T/F 9am-3pm)
Provided we have space available, you can also buy extra hours. This currently costs £3.93 an hour.
Wrap-around care is available between 7.30am and 6.00pm. Click the link for details:
http://www.hindleygreen.wigan.sch.uk/play-pals
We charge £3 a week for snack and, if your child is staying for the full day, £1.80 a day for a school dinner. However, you are welcome to send in a packed lunch if you prefer.
If you would like to visit our Nursery or enquire about places please contact us on 01942 255406.
Sam, Pat and Bob are our class bears. They love to come and stay at everyone's house and enjoy going on adventures with you. When they return to Nursery we love to hear all about what they've been up to!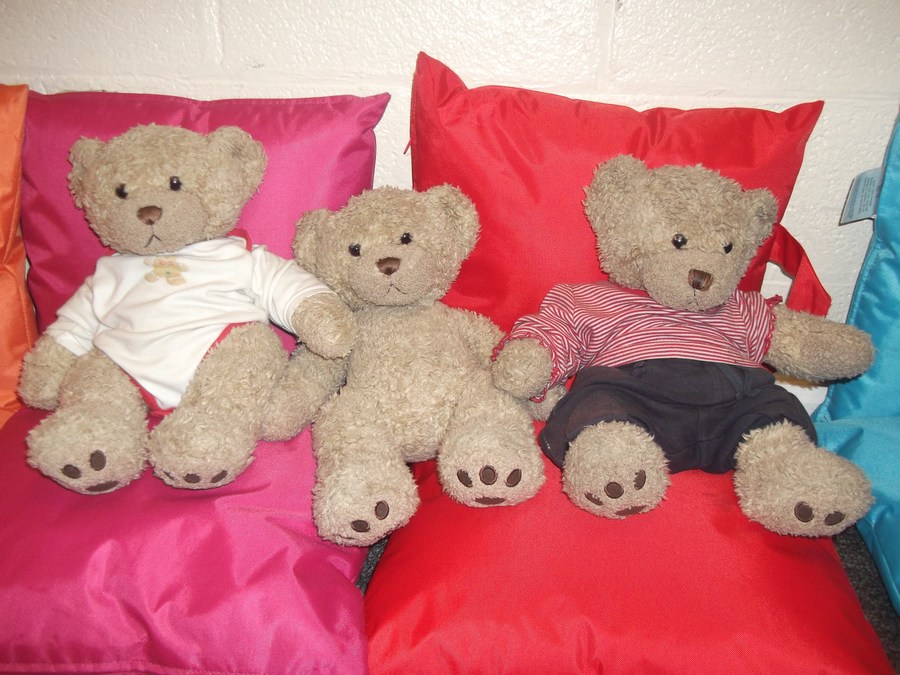 What we are learning
Our topic for this term is 'Once Upon a Time' and we have been learning about castles, princesses and knights. We have had so much fun with our learning - we've made our own shields, created a life-sized princess and knight and we worked together to make a castle and drawbridge from a huge cardboard box. We even measured how wide a castle wall was - 8 metres - on the floor in Nursery!